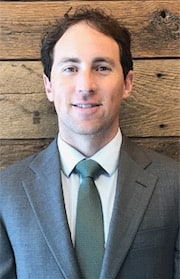 Benjamin Herbst
Benjamin Herbst was born and raised in Baltimore, Maryland and attended Pikesville High School. He is the founder and managing partner of The Herbst Firm and specializes in criminal defense and civil trial law. Benjamin has extensive trial experience, having represented clients in over 60 jury trials, securing acquittals ranging from DUI and drug possession to felony assault and firearm crimes punishable by life in prison. He has also argued hundreds of pre-trial motions including motions to suppress evidence and motions to dismiss charges. Mr. Herbst has appeared on national television as a legal analyst for CBS Face the Nation and the national Evening News. He was selected as a Rising Star by Super Lawyers in 2013, 2014, 2015, 2016, and 2017. In 2015, 2016, 2017, 2018, 2019 and 2020 Benjamin was chosen for the National Trial Lawyers Top 100 Criminal Defense Lawyers in Maryland.

Benjamin received his undergraduate education at the University of Michigan, Ann Arbor, graduating with university honors with a B.A. in political science. Mr. Herbst went on to receive his J.D. from the University of Miami, Coral Gables. While in law school Mr. Herbst first learned the practice of criminal defense working for the Miami-Dade Public Defender as a certified intern. He also worked for a medium sized personal injury law firm in Coral Gables during his law school years.
After graduating from law school Mr. Herbst went on to serve as an assistant public defender where he represented close to 1,000 different clients in cases ranging from theft and possession of marijuana, to life felonies such as armed robbery and carjacking. Mr. Herbst then left the public defender's office to work for the trial firm of Dell & Schaefer, a multi practice law firm specializing in criminal defense, personal injury, and long term disability.
Mr. Herbst is a skilled trial lawyer who focuses on criminal defense and civil trial practice. Mr. Herbst formed The Herbst Firm to offer dedicated and relentless representation to defendants charged with any crime including misdemeanors such handgun possession, disorderly conduct, burglary, and assault. Mr. Herbst has represented clients at jury trial trial in dozens of different offenses including robbery, human trafficking, child abuse, arson, and murder, and is also an experienced appellate lawyer.

As partner of The Herbst Firm, Benjamin Herbst is a relentless and aggressive personal injury and long term disability trial lawyer who does not back down from large insurance companies, and fights to earn the settlements and verdicts that his clients deserve. Mr. Herbst is admitted to practice law in state court and the United States District Court for the District of Maryland, and is a member of the Maryland Bar and the Florida Bar. You can contact Mr. Herbst 24 hours a day, 7 days a week at 410-207-2598.