Cecil County Criminal Defense Lawyer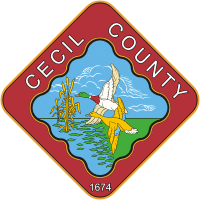 Cecil County is located in the northeast corner of Maryland, and is actually the only county in the state that borders two other states. It sits just south of Pennsylvania, and just west of Delaware. Cecil's other borders are Harford and Kent counties to the west and south respectively. With just over 100,000 residents it is basically right in the middle in terms of total county population. The most densely populated areas are between interstate 95 and Pulaski Highway, also known as Route 40. It is within this area, and on these two roads were most of the police activity occurs. Benjamin Herbst is a dedicated and aggressive Cecil County criminal defense lawyer who handles all types of offenses. The most common types of criminal cases in the area arise from drug and alcohol arrests. DUI arrests are prevalent due to the State Police and local police presence on the major county roads. The same is true for CDS cases such as possession of marijuana and drug distribution. Major violent crime rates in the area are relatively low due to the lack of a densely populated urban area, but there are a fair amount of domestic violence cases reported each year. If you or a loved one has been charged with any type of crime contact The Herbst Firm for a free consultation about your case. Benjamin Herbst is willing to travel to meet with you anywhere that is convenient, and frequently makes jailhouse visits.
The firm has seen numerous cases where out of state residents have been arrested after being pulled over on Interstate 95. It seems that state troopers, local cops, and even the transportation police have it out for cars without out of state license plates. Cecil and Harford counties are two places where these types of cases are popping up more frequently. Troopers typically target younger drivers and cars with modifications such as tinted windows or exhaust systems. But all types of vehicles and drivers are subject to these pretextual stops. Once the traffic stop is conducted, typically for something minor like an illegal lane change or speeding, cops will try to conduct a search of the car. It is important to understand your rights when face to face with law enforcement. Regardless of whether you live in Maryland or out of state you do not have to consent to a search of your vehicle. We have heard numerous stories about cops intimidating drivers for consent to search, and there is nothing that makes us angrier. We will file any and all motions to suppress or dismiss if you have been the victim of an illegal stop and or search. This includes cases where a K9 unit was called to the scene. Remember that if the police threaten to call a K9 unit the entire search could be illegal if the K9 arrives after a reasonable traffic stop would have ended.
All Cecil County criminal cases are heard in the district and circuit courts in Elkton. The city of Elkton is the county seat, and with a population of about 15,000 it's the largest city in the county. Elkton is incorporated, which means it has its own government and police force. Other incorporated cities in the county include North East, Perryville, and Port Deposit. Call 410-207-2598 or fill out the contact form to schedule your consultation with an attorney.