Disorderly Conduct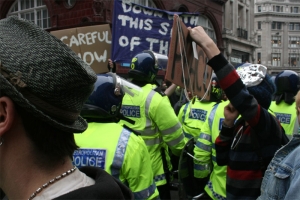 Under state law the crimes of disorderly conduct and disturbing the peace are classified under the same statute and have the same maximum penalty. There are a few different acts or courses of behavior that can legally be classified this crime. The most basic form is willfully acting in a disorderly manner that disturbs the public peace. This definition is extremely general, and can include hundreds of different types of behavior. When a law has a general or liberal definition, police officers often have a wide discretion in defining what type of conduct is legal, and what is illegal. Disorderly conduct is one example of a crime that has serious potential to be abused by police officers. It is also a crime that affects many first time offenders, and can result in a person having a criminal conviction if the case is not handled properly.

Police officers can make an arrest for any behavior that they deem has disturbed the public peace or caused a scene. Common examples of arrests can include bar fights, domestic violence incidents, and even public arguments. Many arrests turn out to be legally insufficient, but cops continue to make these arrests in situations where the only alternative may be to attempt to help peacefully resolve the conflict. An experienced Maryland disorderly conduct lawyer understands that police officers often rush to arrest someone who is simply being a little bit loud, and these cases can often be won at trial or even dismissed pre-trial.
Under state law police officers can also make an arrest if a person disobeys a reasonable and lawful police order. These types of disorderly conduct arrests typically occur at public gatherings where police are trying to maintain order. Again there is the potential for police to abuse their arrest powers in these situations, especially if the officers are placed in a stressful situation. A typical example would be a Baltimore City officer working a Ravens football game where large stadium crowds can create a stress. The casinos, such as the Horseshoe or Maryland Live, present similar situations. It is also illegal under the law for a person to willfully prevent another person from entering a public area. Public areas under the law include restaurants, stores, bars, hotels, and the parking lots for each of these businesses. This type of a disorderly conduct arrest can occur at public protests in a places such as a college campuses, courthouses, and stores. We have also seen these types of cases at events such as football games and concerts. Many times private security officers are at fault for an argument in theses types of cases but it is all too common for police to side with security.

The maximum penalty for disorderly conduct or disturbing the peace under state law is 60 days in jail, and a $500 fine. There is also a related crime entitled interference with a commercial sporting event, which makes it illegal to throw anything on the field of play of at a professional sports game such as a Baltimore Ravens or Orioles game. The maximum penalty for interfering with a commercial sporting event is 3 months in jail and a $250 fine. These cases are becoming more common as event security will generally call for police assistance.

If you have been arrested or cited for disorderly conduct or disturbing the peace, contact an experienced attorney. Benjamin Herbst is available 24 hours a day 7 days a week and handle criminal cases throughout the state, including Baltimore City and Anne Arundel County.