Gun and Weapons Crimes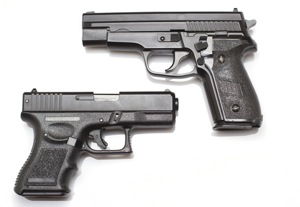 Maryland has a variety of crimes involving the carrying or use of dangerous weapons and firearms, and these crimes can be classified as misdemeanors or felonies depending on the facts of the case. The most common of these crimes is wearing or carrying a concealed dangerous weapon on or about the person. Carrying a concealed weapon or openly carrying a firearm is a misdemeanor with a maximum sentence of 3 years in prison. If the prosecutor proves that the defendant was carrying with the intent to injure another person, then the judge must impose the maximum sentence under state law. This is an example of one of the few crimes in the state that has a minimum mandatory sentence making it all the more important to have someone fighting for you.

Police arrest thousands of people for weapons crimes each year. Many of these arrests were the result of illegal searches and seizures of a person. State law gives police officers the right to pat an individual down in many circumstances, but this stop and frisk provision is often abused by police. In addition police officers have the suspicious tendency to find weapons inside an individuals car after a traffic stop regardless of whether the weapon was actually hidden. An experienced attorney understands the laws that protect citizens from illegal searches, and can examine your dangerous weapon, handgun, and firearm case to determine if there is a way to obtain a dismissal. Do not let police officers take advantage of your right to be free from illegal searches and arrests.

The weapons crimes laws have come under a great deal of scrutiny in the few years, bur recently they made national headlines. A federal judge declared one of the state's handgun laws unconstitutional when he ruled that the state can not longer make a weapons permit applicant provide a good and substantial reason to legally carry a handgun. This federal gun permit case is currently on appeal, but so far the decision has not had a large effect on the amount of gun carry permits that the state issues. Maryland is one of the stingiest states in America when it comes to issuing gun permits. Therefore dangerous weapon crimes such as possession of a handgun or firearm are common offenses that can leave a defendant facing prison time. If you are arrested for any of these offenses you could be subject to harsh penalties including mandatory prison time. A skilled Baltimore weapon lawyer will closely examine the details surrounding your arrests and will file all appropriate motions in your case to secure a dismissal.