Robbery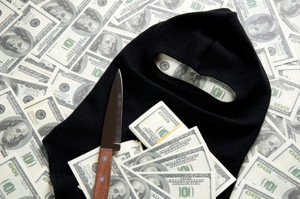 State law defines robbery as using force to intentionally deprive another person of their property. This crime as a felony with a maximum sentence of up to 15 years in prison. It is often confused with burglary, but the in reality they have completely different meanings. If you hear somebody say that their house or car has been robbed, they are most likely referring to the crime of burglary. Robbery requires some sort of person to person confrontation, which is often called a mugging. This is a serious crime, and penalties can often be harsh because there is typically an actual victim that will be called to testify. For this reason, it is also a crime that has the potential for false convictions based on misidentification.
Victims of muggings can be placed under a great deal of pressure by police and prosecutors to correctly identify the person responsible for the crime. A victim may also identify a defendant as the suspect even if he or she is unsure if the police have the correct suspect. Victims undoubtedly faced a stressful and traumatizing experience and may only feel closure to the situation once an arrest, any arrest is made. Misidentifications are all too common in these cases and therefore this is often the best defense. An experienced criminal defense lawyer understands the severity of the crime of robbery, and will prepare your case with the best possible defenses.
Under Maryland law, prosecutors must prove a variety of elements or components of the crime in order to secure a conviction. For example a case requires the government to prove that the defendant used violence or intimidation. If the prosecutor cannot prove violence or intimidation a defense lawyer may argue that the facts call for dismissal of all charges and the filing of a lesser charges such as theft. The government also has the responsibility of proving deprivation of the victim's property. Prosecutors can do this in any of four ways including presenting evidence that a defendant deprived a person from their property permanently, or for a period that resulted in the defendant gaining use or value from the property. Prosecutors can also show that a defendant intended to hold the property until he or she received compensation for its return, or that the defendant disposed of the property.
Property has a wide range of definitions under state law. Property can mean anything of value including obvious things such as money, admission or transportation tickets, and food. Intangible items such as electricity, scientific data, and trade secrets also are classified as property under state law. Obtaining the services of another through force or threat of force is also covered by state law. In addition this crime may be charged when a defendant forces or intimidates a person into providing services such as labor or professional services, lodging, public utilities, transportation facilities, toll facilities, and the use of computers or other data processing equipment. The services language of the statute can be complex and confusing and the term threat of force can be highly ambiguous, leaving a defendant with a variety of legal defenses. If you or someone you know has been charged or is being investigated anywhere in the state, contact The Herbst Firm immediately for a free consultation and case evaluation. We are available to meet with you anywhere around the state, and if you are hiring us for a loved one, we will be out to the jail immediately to meet with him or her.